Warm and long days, sun and water, vacation season – these make what summer is associated with first. Staying organized in these situations seems to be almost impossible. Some people even think enjoying summer and being organized are opposite sides of the same stick. If you are a great fan of spontaneity and unscheduled days of summer and love to spend your time outdoors, check out these handy tips to stay organized.
Have more no-cook meals
Warm evenings make you spend more time outdoors. Kids ask you to let them have their dinner in the backyard patio. You're cooking whole year around and really need a break. Let's put everything in their places. Summer is a great time for vacations, and not only will you take a break from your job, but you'll definitely want to throw housing tasks off your shoulders. That's why having more no-cook meals is a great solution.  This doesn't mean you should order fast food or pizza every day. Try to choose healthy meals, more fruits, vegetables, fresh juice. The key here is to reuse what you have and plan your meals. Opt for no-cook meals that can be thrown together in minutes. Do a little online search to find more summer dinner ideas. However, you shouldn't have sandwiches every day.
Summertime car kit
Summertime is outdoor time! Get your car prepared for the picnic or beach. Keep a folding chair in the back. Have clean towels and some sand toys, if you have little kids. You should also keep a bag for sunscreen and bug spray. If you like to eat in the car or somewhere else, but restaurants, you can have some easily made pockets for knives and spoons. Keep in mind that for outdoor meals there are ready-made items you need. So use more paper products and plastic utensils.
More bags
Organizing specialists say – go bag. Have more and larger bags for summer. Take what you need in one large grab and go bag. Keep in it everything you'll need outdoors not to waste time on looking for all those small items all over the home every day. Water bottles, sports gear, some toys, extra hats, change of clothes, emergency snacks, wipes and more are what you'll need each time. So keep them under the hand. Here is an example of a handy three-pocket pouch fashioned from a carpenter's canvas nail apron. Looks really nice, doesn't it?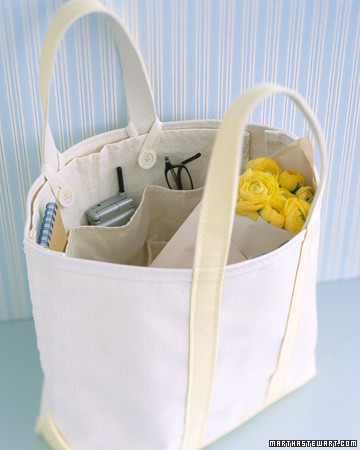 Creatively DIYed
Origami baskets, painted tall thin buckets or DIY numbered boxes will hold all your flip-flops or serve as holds for grill tools not to let them be thrown all around the yard or in the kitchen. This will help you stay organized and never again hear that same questions – "Mom, where are my flip-flops?" or "Who took my towel?" Don't forget about sunscreen and bug spray. These are also very likely to go away if you don't have a good plan for them. You'll buy many more containers than you really need. Not to go mad with this and waste your money, just keep a bag for all these bottles at the front door as well as in your car.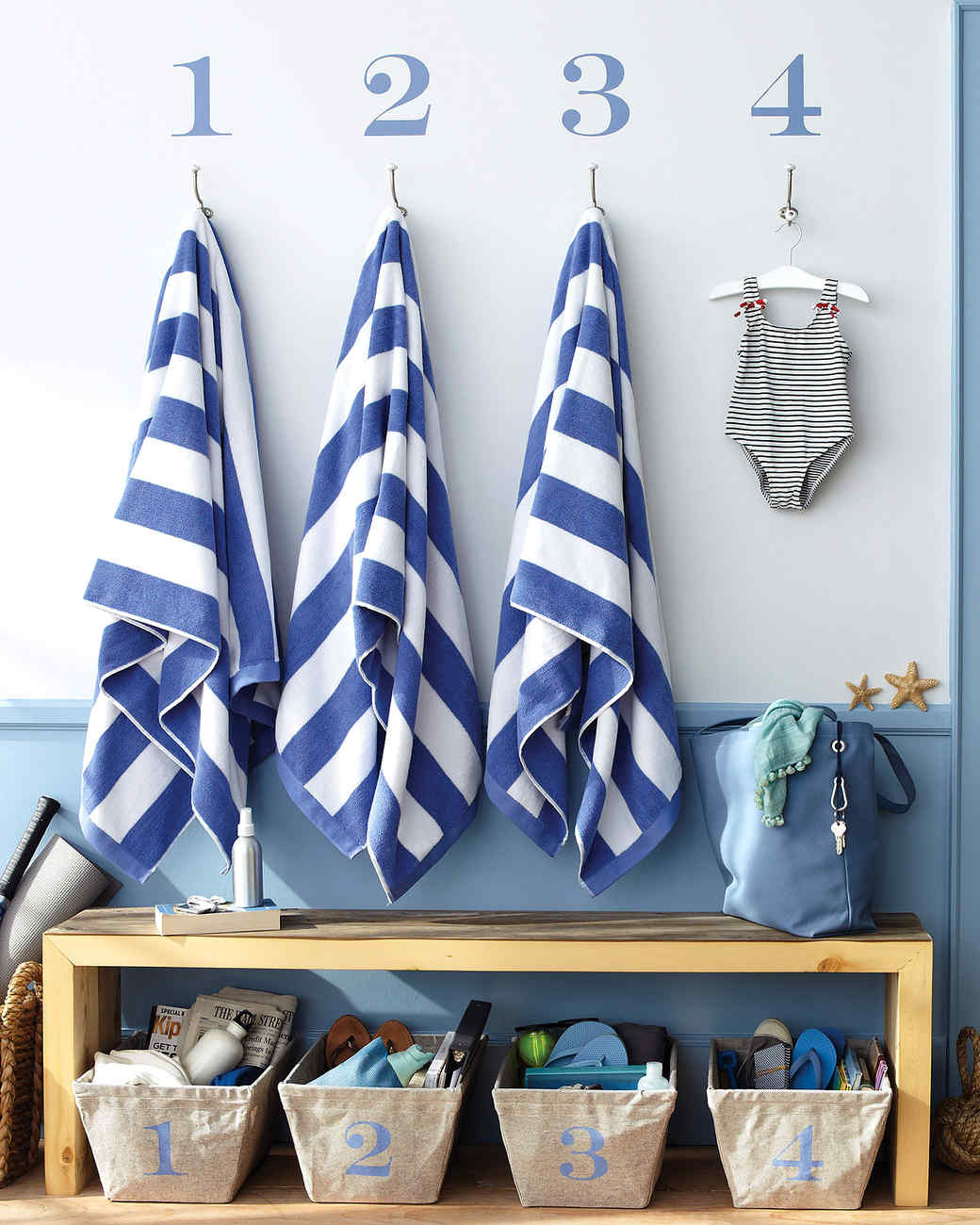 Drop zone
If you have toddlers, this point is right for you. Have you noticed how many times they are running in and out during the day? And how they take all toys out and then drop them just in front of the entrance door! Could anyone explain to me why they need to come in at all?? Haha… Fun? But trying to put all those thrown on the floor items in their places every evening is not fun. Backpacks, towels, rocks, toys, bags, everything they need or don't. The answer is a large bucket: even a large laundry basket would go. Put it right near the door and ask kids to throw all those things into it. So you'll have all the crap in one place and be able to grab and put in their places shortly.
Make it multitask
When thinking of your backyard, what are the two most important things that first come to your mind? Storage and seating! Here is a solution for these two main outdoor problems/see the image/. Easy DIY for father. Just transform wooden chests by painting them and use custom cushions made of waterproof foam.  You will not have a lack of seating and storage at once.
Job chart for kids
Ask your children for help. Once they are free from school, they think they can only make noise and clutter everywhere. It shouldn't be that way. Call them and ask to pick and put away what they use. Get them involved in your daily work about the house. As soon as you make it part of your children's daily routine, it will help you and them during the school year as well. You can have a creative job chart for your kids. It will help you stay organized and teach them to help family members and each other. It will be fun for them to have magnetic job chart to keep track of who has done what.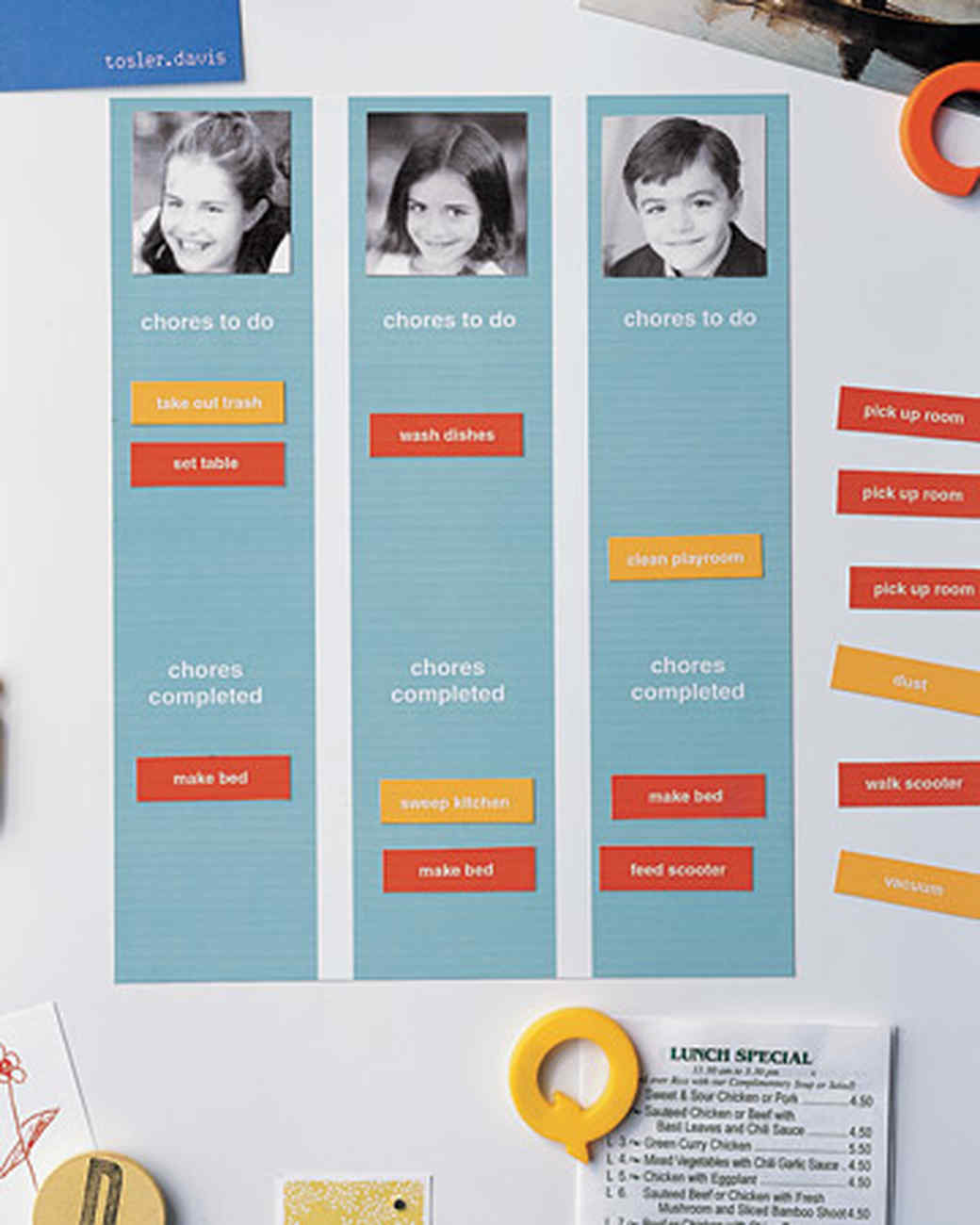 Do a little bit, often
If organizing is too time-consuming for you, and getting organized doesn't top your priority list, this approach is for you. Take something out or in, or take it and put it in its place every time you go to another room. If you don't have kids, this will help you stay organized without special efforts. Put away what you use just after you finish your work with it. Do a quick tidying every night before going to bed. Enjoy being organized without spending much time on it.
Add winter storage
Packing seasonal items seems to be the most unpleasant and time taking process. Each spring we take away winter items and each fall we pack summer items. Every year we have to do the same and the cycle goes around. Why not have separate storage in your garage or somewhere else for seasonal stuff? This is a cool idea. Not only will you avoid clutter, but the rooms will become larger and more beautiful. Creating a designed space for sleds, skates, and outerwear makes your garage and closets feel lighter. Have boxes with labels for gloves, hats, scarves. Snowboard boots and helmets will no longer crowd the gardening equipment.
 By: Hermine Aslanyan
Additional Valuable Resources:
Tips for Organizing Your Stuff For Storage by Bill Gassett
Home Maintenance Tip: Closet Organizing by HomeZada
Organizing Your Stuff for Storage by Anita Clark