For some people home safety consists of keeping doors locked and smoke detectors working. Whether you live alone or you have kids, let me say, especially if you have kids, you should pay more attention to this topic. A safe home is not only a house with locked doors. There are so many rules and tips to follow up to stay safe at home and keep your home safe when you are out. You might agree that for kids' safety the most important point and best security is adult supervision. Still, there are commonly approved rules that will help your family and you stay safe outside and inside the house. Be careful and, if needed, make some minor, still very important changes at home and ensure your whole family is safe. For people who have kids, it's also very important to know all risks to be able to remove or prevent them. You may want to know and teach your kids safety rules by home areas. Or you just may have general rules to keep in mind.
General rules:
Install and occasionally check smoke and carbon monoxide detectors.
Have a locked mailbox for outgoing mail and do not put mail with any personal information in an open mailbox.
When you are on vacation, ask your neighbors to take notes and flyers that are left at the door. Sometimes burglars use this as a sign that there is nobody at home for a long time, and your home may be robbed.
Make sure to use the right cords outdoors. It should have a note, that it is suitable for outdoor appliances.
Pay attention to landscaping. For example, thorny bushes, like roses, can deter window break-ins.
Also having «Beware of Dog» and/or «Security cameras in use» signs are good ideas.
This might sound funny, but you shouldn't post photos of vacation in social networks until you're back from your vacation.
Make sure to keep papers and other flammable objects away from fire sources in the kitchen.
Use cleaning products and lighters, following the instructions.
In the bathroom use non-slip strips.
If there are stairs, make sure to keep them clean, dry and well lit.
Remove dry vegetation around your home, especially during hot season.
If you have a pool, make sure to read Pool safety rules for pets, kids, and adults.
Keep your garden and garage clean and organized. Keep sharp, heavy and other dangerous tools in their places.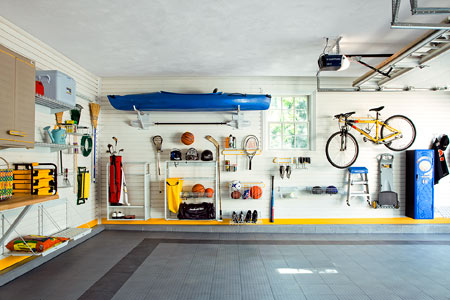 Even in bed, keep the phone and light within reach and have easy access to important phone numbers, like the police, the fire department, in case of emergency.
Keep your valuables in your child's rooms, instead of your bedroom or the living room. As a rule, thieves leave children's rooms untouched.
If you have a car, keep its keys near you, when you're sleeping.
Join a community-wide crime-prevention program.
When you're not home, lower your telephone ringer's volume.
When renovating or building a new house, use fire-resistant roofing.
For kids:
Have a fire escape plan.
Double check door and window locks and bolts.
Secure bookshelves and dressers to the wall.
Keep cleaning supplies and medicine out of kids' reach.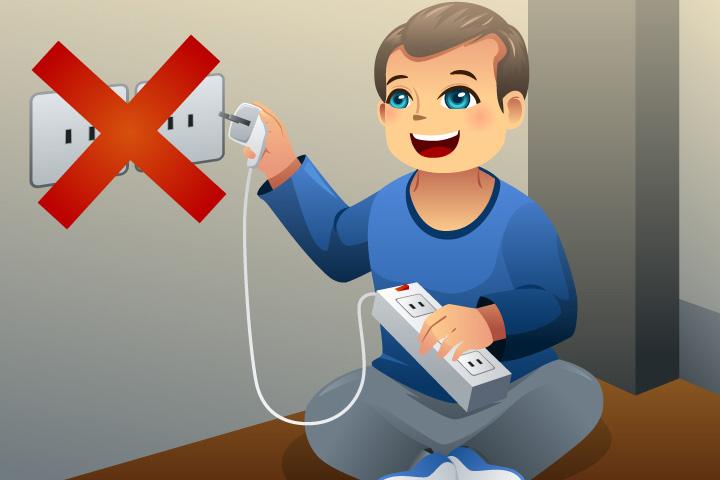 Don't leave kids alone in the kitchen and bathroom. Keep them away from standing water and hot subjects.
Have outlet covers on all the electrical outlets.
Make sure your kids know your contact number and address.
Teach your child not to take and eat anything given by a stranger.
Teach your child not to climb the yard fence as well as a school fence.
Ask your kids not to go out alone, and, if they are lost, stay where they are; this way you can find them easier than if they try to find the way back and go even more away.
Have low-power light in kids' rooms and in the living room to make it easy to get to the toilet at night.
Keep hot drinks away and out of reach of children.
Always replace electrical cords, if they are worn.
Teach your child how and who to call, in case of an emergency.
Keep first aid kits in your home and car. Also, take a kit with you when you're on vacation with kids.
If you have a firearm at home, lock them away.
Small sized items must be kept away if you have toddlers.
Never have any appliance switched on and then left it as it is in the presence of kids.
Teach your child to swim.
Make sure your kids have a nice and creative place to play. This will help you keep them away from places you don't want them to get to.
By: Hermine Aslanyan
Additional Valuable Resources: 
INSPECT YOUR HOME A LITTLE CLOSER, BEFORE SELLING by Lynn Pineda
How To Safely Senior Proof Your Home by Xavier De Buck
11 Shocking Home Electrical Safety Tips by Mike Chamberlain
Childproof Home Safety Tips by Anita Clark
Smoke & Carbon Monoxide Detectors When Selling a Home by Bill Gassett